But it is. It really is.
I CAN NOT STRESS THIS ENOUGH.
What exactly?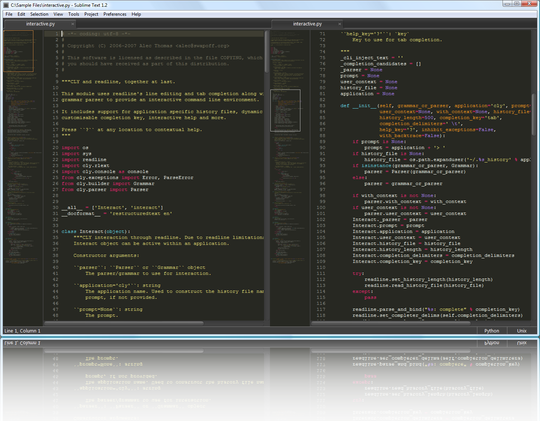 I've been searching for an IDE for years to break away from DreamWeaver, which has hung on this long simply becuase I knew it so well, and didn't want to have my workflow disrupted while I re-learned all those little things that make you productive, and nothing felt right.
And then… yeah, I don't really need to explicate further.
I can't even begin to enumerate the reasons, but for starters, it is beautiful, fast, simple, comprehensive and INSANELY customisable – all at the same time.
Just one example:
[Ctrl/Cmd + P], [@] and you have a list of all the functions in your file – select one to jump there.
Wonderful…
Get it fired up (Win/OSX/Linux)
Read this: Sublime Text Tips & Tricks
Read this: Customise Sublime Text 2
I'm currently working with the following essential packages:
– Package Control (the daddy!)
– Alignment
– Bracket Highlighter
– SFTP
– SidebarEnhancements
– Sidebar GIT
– SublimeCodeIntel
I also have the following installed
– Additional PHP Snippets
– CodeIgniter 2.0 [discontinued?]
– copy-file-name
– INI
– jQuery Snippets Pack jQuery
– JS Minifier
– JSFormat
– PHPDoc
– TrailingSpaces
– ClipboardHistory (update: now needs manual installation – see https://github.com/kemayo/sublime-text-2-clipboard-history)
[UPDATE]
– Soda Dark Theme
– CssComb
– SublimeLinter
– All Autocomplete
– HtmlAttributes
No links are provided, as none are needed. Once you install Package Control (See the linked articles above for instructions) it is childishly simple to install packages through the Sublime interface. It's easy enough to browse the entire library to pick up what you need for your work flow and syntaxes – err… synti? Sod it, languages.
But I wouldn't recommend just mass installing – not all are perfect, and winnowing out problem packages could be a royal pain.
I don't recomend BufferScroll – it is insanely annoying, and seems to have no preferences.